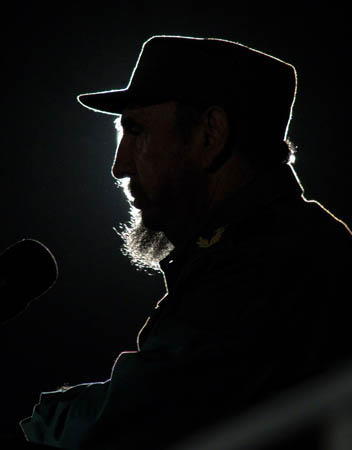 W
ell, the local Spanish-language news networks (Univision and Telemundo) are in overdrive, most likely going non-stop till noon. They're talking to experts and Cubans, especially the exiles at La Carreta and Versailles Restaurant, some of which are celebrating.
There are some Cuban exiles that see
Fidel Castro

's renouncement of power
as a positive step for economic or political change. Some are focused on how best to bring war crime charges on the former totalitarian leader.
Noticias23 (Univision) had video of Cubans on the island reacting to the recent news. All of them understood that Fidel Castro is too old to be in power and that he needed to retire. Most explained that Fidel struggled and gave everything that he could for Cuba. One Cuban woman almost came to tears.
Video of Cuban dissidents was also made available by Noticias23.
Eloy Gutierrez Menoyo
was hopeful and said that economic changes are inevitable (whether the political elites want it or not), and that positive developments await Cuba once everyone realizes that Democracy depends on pluralism.
Oswaldo Paya
is also seen hopeful, but more cautious. He says that he does not look towards the "palace," but rather to the people who want their
freedom
, and want
peace
.
[The
Cuban Triangle
has more, the
Cuba Journal
gives thanks and says farewell to Fidel, and the
Babalu Blog
is, well, intransigent.]
[Excerpts from Fidel Castro's
farewell letter
from the BBC.]
[
Update
:
Great interviews
with Cuba experts
Julia Sweig
(from the Council on Foreign Relations, and
Peter Kornbluh
(from the National Security Archive).]