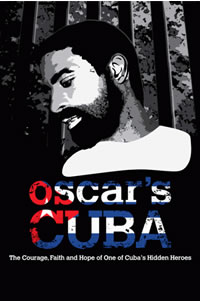 L

ast month
I went to the Tower Theater in Little Havana and saw the documentary
Oscar's Cuba
directed by Jordan Allott and John Gyovai. In sum, it was a decent hour-long introduction to a few of Cuba's old and new dissidents, with
Oscar Elias Biscet
(now serving a 25-year sentence since 2002) as its central figure. But, the project clearly suffers from the fact that independent film-making inside Cuba is difficult (due to its
politically repressive climate
) and therefore had to be shot clandestinely, and the obvious fact that its central character is behind bars and was unable to directly participate with the filming. As a result, the documentary is not really about Oscar Elias Biscet, but instead about the general hardships of Cuba's internal dissidents which Oscar's story seems to symbolize.
But why Oscar?
This is a question I immediately asked myself after noticing that the documentary spent a considerable amount of time NOT talking about Oscar Elias Biscet. Instead, the film included interviews with several other Cuban dissidents not related to Oscar's story, such as young dissidents Yoani Sanchez, Claudia Caudelo, Gorki Aguilar, and older ones like Armando Valladares and Oswaldo Paya. And, the film dedicated time to Cuba's
2003 Black Spring
and the
Ladies in White
movement, both events not related to Oscar Elias Biscet. In fact, given the attention other dissidents received, the film could have easily been titled "Yoani's Cuba" or "Oswaldo's Cuba."
But, after some research, it soon became apparent why Oscar Elias Biscet became the central figure: Biscet is a pro-life activist that compares abortion to genocide. And this is also the main reason why many other people, namely "conservatives," support Oscar Elias Biscet.
Jordan Allott, the film's co-director and executive producer, has mentioned repeatedly in
interviews
and
speeches
that he became aware of Cuba's internal dissidents through the
pro-life activism of Oscar Elias Biscet
. Jordan Allott and his twin brother Daniel (associate producer of
Oscar's Cuba
) are both pro-life activists themselves. Jordan and Daniel make faith-inspired documentaries for
In Altum

Productions
, while Daniel also works for the non-profit organization American Values, which
mainly writes
articles for "conservative" magazines and
declares
that "from
any perspective
abortion is wrong."
As a result, fund-raising and promotion for
Oscar's Cuba
has mainly occurred within "conservative" circles, such as
writing
articles
for the American Spectator and networking with hardline Cuban exiles, such as
Rep. Lincoln Diaz-Balart
. In fact, after a successful fund-raising event in Miami
last year
, Jordan Allott was able to include interviews from three of the most hardline, pro-embargo activists in the U.S.: former Cuban political prisoner
Armando Valladares
, former Interest Section chief
James Cason
, and
Rep. Chris Smith
of New Jersey. Just like Allott, Rep. Smith is a big supporter of Oscar Elias Biscet, and
is also pro-life
.
Therefore, the film presents a very specific, hardline perspective about Cuba's internal political repression: that the Cuban government strictly represses dissent without restraint on its brutality or sympathy for its victims or families.
But, the truth is more complex than that. Over the years, Cuba has dealt with political prisoners very differently,
sometimes negotiating their release with Cuban exiles
, or
with other foreign governments
. And, as we can see now, the Cuban government is also open to
negotiating prisoners with the American government
, or even their
prison conditions with the Catholic Church
in Cuba. This long history is not mentioned in the Allott documentary.
Instead, when I left the Tower Theater after the film had finished I felt depressed.
Oscar's Cuba
left the impression that there was virtually little hope for Cuba's political prisoners. And, the few internal dissidents mentioned in the film also revealed how little influence they have inside Cuba's repressive system.
But, the documentary's
official website
gives us some suggestions on how to help Cuba's political prisoners. Let's review those suggestions:
1)
Spread the word and hold a screening of Oscar's Cuba
- In my opinion this would not be much help because the film is depressing without a larger context, and it would be difficult to place Cuba's political prisoners over greater world concerns, such as
global poverty
and
international tensions
.
2)
Get political
- This section of the website suggests writing letters to the U.S. and Cuban governments, and human rights organizations. This is better than the first suggestion, but the U.S. government holds zero influence in these matters due to its hardline position on Cuba. The Cuban government itself is unlikely to make any changes because the general Cuban population is not concerned over its political prisoners. And, human rights organizations are also generally ignored by the Cuban government.
3)
Pray
- It couldn't hurt, but its already been
over 7 years
(!) for those political prisoners arrested in the Black Spring.
The awful truth is that our hands (in the U.S.) are tied. The fate of Cuba's political prisoners depends on changes inside Cuba, and the hope that someone will effectively transmit how prisoners and their families suffer to the ears of the Cuban government.
--- [Addendum] ---
There's a great short documentary about Cuba dissident Oswaldo Paya called
Dissident: Oswaldo Paya and the Varela Project
[Video:
Part 1
and
2
]. It packs so much in just 10 minutes. It was directed by Heidi Ewing and Produced by Rachel Grady, the same team that has since made
other wonderful documentaries
.