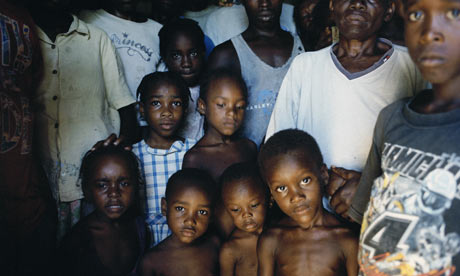 T
he horrible destruction from Tuesday's 7.0 earthquake has killed an estimated 50,000 Haitians and may potentially bring additional suffering for millions of Haitians now lacking access to water, food, shelter, and health services. It's most vulnerable of course being the children. Countries from all over the world have now been provoked to send immediate aid.
But, ironically, before the recent earthquake and the
devastating hurricanes of 2008
(which caused about $1 billion in damage), Haitians had already been living in dire predicaments.
Health data collected around 1999 and 2000
by the World Health Organization describe a country where a significant number (12%) of
children under 4 would die from diarrheal diseases likely caused by a lack of clean drinking water
. (The child mortality rate still stands around
80 per 1000 live births
.) For adults and adolescents, AIDS was the leading cause of deaths. This was followed by intestinal infections as the second leading cause, most likely associated with the level of sanitation and access to clean drinking water.
Currently,
it is reported
that only half of all Haitians have access to clean drinking water, and 19% have decent sanitation.
On the Human Development Index
, which measures life expectancy, literacy/education, and purchasing power and income,
Haitians find their "well-being" on par with citizens living in war-torn nations like Sudan and Timor-Leste
.
Yet, despite those grave conditions, humanitarian aid for infrastructure only trickled into Haiti. Not even former President Bill Clinton, as a
newly appointed
UN special envoy to Haiti, could help collect a total of $270 million in internationally committed aid to Haiti.
By September
of last year only a pitiful $21 million had been delivered.
So, when we talk about helping Haiti, it should be noted that it is very strange to hear calls for "a sense of common humanity," especially when such common humanity for Haiti seemed absent for so many years
.
But, it is never too late to help. And with relief aid pouring into Haiti from nations around the world, one should assume that this common humanity also means cooperation among the donor nations. Unless, of course, you are from the
Heritage Foundation
.
Cuba experts such as
Julia Sweig
and Steve Clemons have recently proposed the idea that cooperation in U.S. and Cuban relief efforts inside Haiti can provide an opportunity to improve relations
.
Clemon's proposal
sees a broader regional effort where cooperation among Latin American nations, including Cuba, could perhaps improve relations and bring about positive long-term outcomes.
But, the Heritage Foundation,
which takes a hard-line stance against Cuba
, sees only a
restricted form of cooperation
. Aside from recommending the Obama administration take advantage of the current crisis to initiate a long-term "reform program" and build a "stronger democracy" inside Haiti,
Heritage advises the U.S. to ignore cooperation relief efforts with Cuba. Instead, we should be cautious of Cuba
.
"
Cuban medical personnel and Venezuelan cash and assistance teams will arrive in Haiti, and there is certainly bound to be tension and jockeying for credit and media attention.

In this tragedy, one would hope a sense of common humanity prevails. But the Castros and Chávezes of this world do not play that way

."

Heritage has a very strange sense of "common humanity." Anyway, Heritage recommends the Obama administration to instead cooperate with "friendlier nations" and create "
a strong and vigorous public diplomacy effort

to counter negative propaganda emanating from the Castro-Chávez camp."

Boy, the Heritage Foundation sounds really worried about propaganda from the "Castro-Chavez camp." It'll be interesting to see in the following days what Heritage is so fearful of.



In the meantime,

it is being reported

that Cuba already has a medical unit inside Haiti attending to hundreds of the injured and performing surgeries. They are expecting to build three field hospitals soon

.

For years, at least since 1998, Cuba has provided humanitarian aid to Haiti in the form of Cuban doctors and scholarships for Haitian students to receive medical training.

Cuba has since maintained a medical unit inside Haiti of over 300 doctors and providing health care for millions

. At a 2004 UN press conference, a Cuban spokesperson reported that the Cuban medical team inside Haiti had treated "

nearly 5 million Haitians

."

[BBC Special Reports from Haiti]
[

Dr. Paul Farmer on Cuban doctors in Haiti

]
[Medical experts on Haiti's Aftermath]
[What You Can Do To Help Haiti]

[Photo my Gideon Mendel]